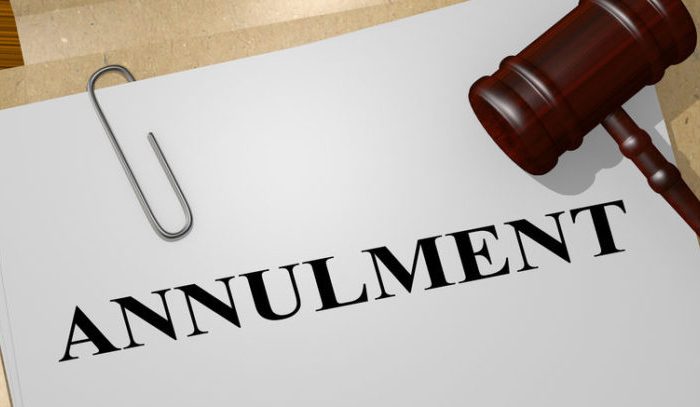 An annulment of your marriage in Ontario, in contrast to Divorce which represents the termination of your marriage, means that a judge can declare your marriage null and void. Bear in mind that civil annulments are rare and hard to argue in Ontario.
Canadian law limits the grounds when seeking a marriage annulment. Guidance from a family law expert is essential when seeking such annulment, which may cost more and take longer than a normal uncontested divorce.
Ground for Annulment:
The grounds for annulment in Ontario are quite limited.
one spouse was already married when the marriage took place
one spouse was unaware that the ceremony was, in fact, a wedding
marriage cannot be consummated. Please note that if you were to use this argument, it will only be valid if the spouse cannot consummate the marriage due to a physical inability that you were unaware of prior to your marriage
the spouse has no mental capacity to understand what a marriage is
the spouse was so intoxicated that his/her consent to the marriage was impossible to obtain
one spouse was under age and lacked parental consent
the marriage was fraudulent or under duress. Please note that in order to be granted an annulment on the basis of fraud, one or both parties to the marriage must prove:
she/he was deceived as to the nature of the ceremony and/or
she/he was deceived as to the true identity of the other party[1]
the spouses are too closely related (i.e. siblings)
one spouse only consented to the marriage due to threats and/or duress
 Process to getting an Annulment:
The first thing you must do is to make sure you meet one of the legal grounds for annulment in Ontario. Second, fill out the application form and submit same to court after seeking legal advice from a family law expert. Next, a hearing date will be set up for you to appear before a judge. Be aware that your spouse has the option to contest the annulment in Court.
 Civil Damages:
If your marriage was obtained by fraudulent means, you may be entitled to damages. However, each matter is case-specific and you will require the services of an expert lawyer that can help determine whether your case meets the threshold. Canadian courts have held some causes of action for fraudulent misrepresentation of marriage. In Raju v. Kuman[2],  the wife successfully sued her husband on the grounds that he had "fraudulently misrepresented" his "intent to be in a permanent marriage." The wife received damages for the cost of pursuing the defendant's immigration to Canada and $10,000 in damages for "hurt feelings, humiliation, inconvenience and postponement of the opportunity to marry another man while she was still capable of bearing children."[3]
In the end, whether you opt out for an annulment rather than a divorce, the process is generally costly, painful and long. Effective communication coupled with excellent legal representation is required to ensure the process takes the shortest time possible. We, at A. Princewill Law Firm, are here to assist you with this issue.
If you need any help with family law matters, contact Family Law Lawyers in Markham, Pickering, Toronto, and Scarborough. You can call us at (905) 492-7662 or email us at [email protected] to schedule a consultation.
[1] For a more complex explanation of this issue of fraud and its grounds for annulment, see Iansis, supra, Torfehnejad v. Salimi, 2006, CarswellOnt 7275 (Ont S.C.J.), and Grewal v. Kaur, 2011 ONSC 1812.
[2] Raju v Kumar, 2006 BCSC 439.
[3] Ibid at para 88.